Warning
: Use of undefined constant yes - assumed 'yes' (this will throw an Error in a future version of PHP) in
/var/www/links.as/public_html/wp-content/themes/linksas/index.php
on line
21
Recent Approvals
Warning
: Use of undefined constant yes - assumed 'yes' (this will throw an Error in a future version of PHP) in
/var/www/links.as/public_html/wp-content/themes/linksas/banner468.php
on line
1
Looking for your new favorite Android application? Are you an avid Minecraft player? Don't let this application pass you by.
Using the new Minecraft Server List mobile application, you can browse thousands of online and active Minecraft servers from the convenience of your Android mobile device. Find the perfect server to play on, without even having to leave Minecraft on your PC by just firing up our Android app from the palm of your hand.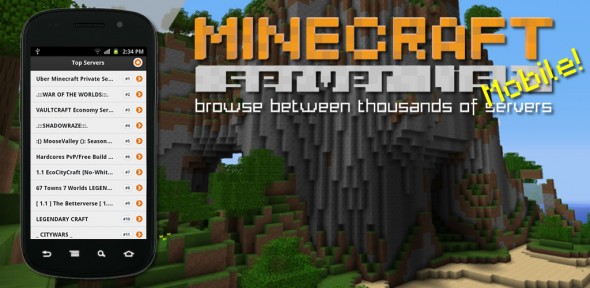 There are currently no other applications on the Android market which allow you to do this at the moment, making Minecraft-Server-List the leading provider for finding the best Minecraft servers. By default, the application allows you to browse the top minecraft servers, and the newest Minecraft servers with just a tap of a button. If you're looking for something a bit more advanced, feel free to use the advanced search to find your perfect server. Sort by servers with bukkit mod, servers focused on PvE or PvP, servers on a specific version, servers in a specific country, or a combination of all of this plus more with our advanced search.
Stay tuned, as future versions of our mobile application will be available on the Apple App Store, Blackberry App World, and the Windows Marketplace.